After the recent legalization of fentanyl test strips in Wisconsin, Community Pharmacy located in Madison, WI partnered with Public Health Madison and Dane County to reduce the number of overdoses in the area.
To do this, Community Pharmacy is providing the community with fentanyl test strips, clean needle and syringe kits, and Narcan.
As a community pharmacy that operates using a a co-op structure, it is easy for staff to come together and make decisions like the one to supply these test strips and kits. The employees of Community Pharmacy work together to ensure the pharmacy is not just doing well but also supporting the community.
"It's one of those things where we can come together as a pharmacy and say this is a service we want to offer to the community, and we get to make that decision," Aimee Speers, Head Pharmacist said.
Providing supplies that help prevent overdoses is nothing new for Community Pharmacy, the pharmacy previously partnered with a different organization to give out clean needle and syringe kits. But this new partnership has allowed them to expand their efforts.
"Legalizing it (Fentanyl test strips) has had the most impact," Pharmacy Technician PJ Chamberlain said. "It's a big step forward for people to destigmatize safer drug use and to encourage people to be more aware that what they're using might not be what they think it is."
Finding His Path to Pharmacy
When talking about how they decided to hand out the Fentanyl test strips it was essentially a no-brainer for the Pharmacy. It fit with what they were already doing to support their community.
"I think it made sense for us to have them, they just go hand-in-hand with us handing out clean needles," Speers said. "We want people to be safe if they are going to use so it makes sense to have those in stock and be able to distribute here."
Working to support all parts of their community is a central part of what Community Pharmacy is about. The staff there has identified a need in the community and is doing what they can to meet it.
"I personally had a friend who passed away two years ago of an overdose, so it's a personal thing for me," Chamberlain said. "It makes me want to make sure more people are safe when they are using. We really try to focus on the community part of community pharmacy."
Community Involvement
To promote the services they're providing, the Community Pharmacy team has attended multiple events in the community. At some events they have run out of certain supplies and intend to bring more so they can give it out to anybody who asks.
The staff at Community Pharmacy has found that it's not just those who use that are asking for these supplies.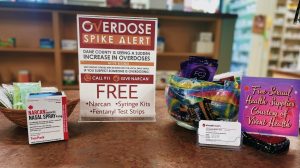 "We had someone come in last week who asked for test strips for a friend of his so he could give them to his friends, so it's nice that it's not just about the people who are using but there are people in the community who also want to be a part of the service we offer," Chamberlain said.
Along with their efforts to ensure people in the community have the tools to save lives, they also work to keep the community informed during times when overdoses are spiking. Ultimately the goal is to save lives and protect the health of the community.
As a part of this goal, Community Pharmacy also offers free COVID-19 testing, free sexual health supplies, as well as a drug repository. You can find these services as well as many other great ones at Community Pharmacy located at 130 S Fair Oaks Ave, Madison, WI. They have a second location at 6333 University Ave, Middleton, WI 53562. Their hours are Monday– Friday 10AM – 6PM, Saturday 10AM – 5PM. For more information check out their website, https://www.communitypharmacy.coop/