Whether you are spending the day outside on the boat, at the fair, or even just mowing the lawn, dehydration can creep up on you and lead to serious problems. Dehydration is the result of not having enough water and electrolytes in your body to keep up with any activity you are doing.
The Cleveland Clinic says to watch out for these signs:
If you or anyone around you start to feel any of these symptoms, take a break and hydrate, hydrate, hydrate! If you don't, you could potentially need to seek out medical attention if you reach moderate to severe dehydration levels.
Dehydration can happen all year long, so don't just focus on the summer months. The cold and flu season is another notable example of when people can easily become dehydrated.
IPC's Pharmacy Services team is always on the lookout for vendors that can help solve problems for you and your customers. BIOLYTE is one of those vendors!
BIOLYTE is a liquid supplement that provides the same benefits of IV rehydration therapy, but in a drinkable form. It's a physician-formulated, all-natural option packed with 5 different vitamins and antioxidants that increase energy, ease stomach illness, and reduce cramps. It has all the good stuff to keep your customers happy, healthy, and hydrated!
Here are some testimonials from community pharmacists, provided by BIOLYTE:
"By having BIOLYTE in my pharmacy, I have become a hero in my customer's lives. From helping customers going through chemotherapy, to fighting the flu, or dehydration – offering BIOLYTE has helped everyone feel better faster!"
"Great product. My son drinks it before every football game and he can play an entire game without a single cramp. He had such great results, I tried it when I had a night of leg cramps and the results were amazing. The cramping stopped within minutes of drinking. We now sell it in our pharmacy."
To further your position as a healthcare expert in your community, you can also offer the following suggestions for preventing dehydration:
Take Breaks
Dress for the weather
Eat Hydrating Foods
Drink Hydrating Fluids
Replenish Electrolytes
Limit time spent in the sun
Stay inside when it's too hot
You could also recommend, as Cleveland Clinic does, to avoid alcoholic and caffeinated beverages such as coffee, teas and colas. These fluids tend to pull water from the body and promote dehydration.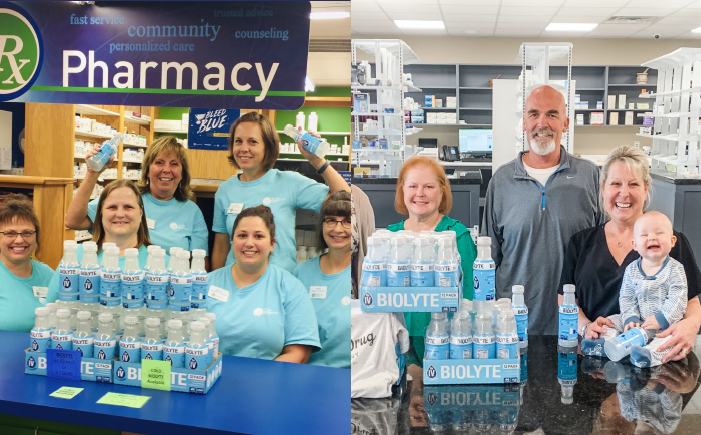 Stocking your stores with a trusted product like BIOLYTE while also providing expertise on how to stay hydrated will help empower your customers to avoid dehydration, stay healthy, and keep them coming back for more!