"You don't want to be rich to be a pharmacist," said Kam Tam, owner of New Oakland Pharmacy. "That's the wrong profession to be in, OK? So, you have to have a vision and a mission."
Tam has been an independent pharmacy owner for 32 years with a handful of locations throughout the Oakland area in California. During that time, he's seen other pharmacies come and go, mentored new pharmacists and is watching his daughter step into his role.
When it comes to running a pharmacy, Tam says it's important to have a vision and mission. He also describes a couple important things for pharmacists to remember every day.
"The first, is to advocate the health of children, two is to be able to provide the most comprehensive pharmaceutical service to you patients will all the resources you have, three is excellence in education, which is not part of being an owner," Tam said. "… Once you do those things well, everything should follow."
Those are virtues that he repeats to everyone he works with. Whether it's providers, administrators or even students. He also mentors other pharmacists seeking to become owners. His first mentee was a pharmacist who he had previously sent underwater prescriptions to at a chain pharmacy.
"Many years later, all of a sudden he gave me a phone call and he said, 'Hey Kam can I come to your pharmacy to check out your pharmacies because I am going to try to open a pharmacy,'" Tam said.
Tam helped this pharmacist and others without a second thought about how it would benefit him. To this day he is still friends with his first mentee.
Finding His Path to Pharmacy
Tam's own path to pharmacy was a little different. It started when he came to the U.S. in 1968 at 16 years old. Coming from Hong Kong, he didn't know any English but was already well-versed in math, physics, chemistry, calculus.
"I was able to take the exams and such because math is a universal language, you don't need to speak English to solve those problems," Tam said.
The chemistry teacher at his school discovered Tam's aptitude for chemistry and he was asked to work in the lab. Through that opportunity Tam got to know the counselors in the school, which led him to a youth program and a job in a pharmacy.
At the same time his family, being what Tam described as poor immigrants, was in need of health services for Tam. He was cared for through a Federally Qualified Health Center (FQHC). This collection of experiences led him to pursue a career in healthcare.
After pharmacy school he worked at a chain pharmacy and was on a path to become a district manager. A meeting with his partner at New Oakland Pharmacy shifted his trajectory. One thing that convinced him was that his partner was working with an FQHC called Asian Health Services.
"I thought oh wow this is the same type of service that helped me when I first came to this country," Tam said.
Tam saw this as an opportunity to help those who were coming to the country like he did many years ago. To this day Tam continues to work with FQHCs. Each of his pharmacies has a connection with one.
"It completes the circle," Tam said.
Community Involvement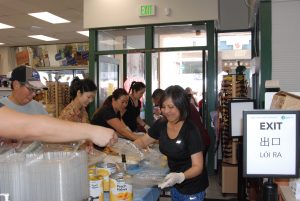 When he's not mentoring other pharmacists, Tam makes a point to regularly work with at-risk or marginalized populations.
"I try to create value in what I do that people will actually notice, instead of filling prescriptions and getting my fee," Tam said. "That's so obvious and that's why many of the pharmacies cannot perpetuate their pharmacy because they are very myopic in doing what they do."
When Tam considers the future of independent retail pharmacy he thinks of his partnerships with providers and doctors. In recent years he's seen a decline in independent doctors, reducing the opportunity for collaboration and directly impacting pharmacies.
"When I first came to this country in 1968 there were 11 independent pharmacies (in Oakland), at the height there were 13, now there's only two," Tam said.
Tam has sustained his pharmacies through connections with FQHCs, LTC facilities, clinics, and hospitals along with the providers and administrators who work there. And though he has created a successful group of pharmacies, even he will have to stop working soon. Unlike many of his peers he won't be closing his stores.
"Do I have a succession plan, yes I do," Tam said with a chuckle. "I planned for my succession many years ago when my daughter went to pharmacy school."
His daughter graduated in 2003, but initially didn't want to work for him.
"She knew the hours," Tam said.
About seven years later she changed her mind. She now leads as the CEO of the small group of New Oakland Pharmacies.
"She's very, very good in doing what she does and so I passed my CEO title to her four years ago," Tam said. "She's taking over the operation and also all the administrative stuff in the pharmacy and so she's my replacement person. It's very gratifying when you realize that your mentee is better than you."