"I guess some people consider us a local landmark in town," Bill Drilling said.
Drilling Pharmacy has a longstanding history in Sioux City, Iowa. As a family, the Drillings' have been operating the
store for just more than 50 years, but the original pharmacy has been there for more than 100 years.
"My dad was the original Drilling of Drilling Pharmacy and he bought the store in 1970 and the store has been in operation since 1905," Bill said. "In 1978 we moved to our current location."
Since the family purchased the pharmacy, they moved over a few doors and have upgraded the location a couple times.
Bill said about 13 years ago, "We took the old façade off and restored the front of the building back to the original look with the brick."
Two years before that, they completely remodeled the entire pharmacy department and moved it to the front of the store temporarily.
A Family Business
Bill, along with his brother Don, bought their parents out of the pharmacy starting in 1986 and have been partners ever since. Around that time, they had six employees including themselves. Their store now operates with 60 employees.
The location, appearance and leadership are far from the only things that has changed at Drilling Pharmacy during the past 50 years. The industry itself has changed a lot too.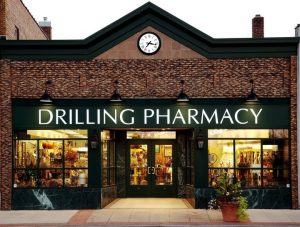 "When I was in pharmacy school, they basically taught us not to talk to the patients," Bill said. "Now it's a totally different profession, we counsel our patients we talk to them"
When Bill got his start, pharmacies were mostly focused on prescriptions. Services in pharmacies have diversified across the nation in the decades since.
"When I was in pharmacy school, I had no idea that someday I would be doing immunizations," Bill said. "We're doing immunizations now, we're looking at point of care testing, we're looking at medication therapy management and we're going to put together a blood pressure club."
Something that was clear from early on was that Bill would be a part of the family business.
"When you're in a family business you basically start working there when you're in high school with everyone else in the family," Bill said.
The family affair will continue long after Bill has decided to retire as his daughter Sarah Sorensen has been inspired to follow in her father's footsteps.
"My daughter is currently a pharmacist with us, she's been out of school for three years," Bill said. "We're going to make sure that Drilling Pharmacy continues on."
The Challenges of Pharmacy
The Drillings have seen much change for the better with the adoption of technology to help pharmacists better serve patients. At the same time they've encountered many new challenges, likely familiar to our members.
"When I first started out PBMs were kind of a novelty," Bill said. "We probably did about 6-12 third part prescriptions a week. Now probably over 90% of our prescriptions are through PBMs."
The challenges of PBMs include poor reimbursements and DIR fees, likely the biggest challenges they face. Closed pharmacy networks and patient steering are also a challenge for Drilling Pharmacy.
Bill said that open enrollment periods typically result in lost patients each year, but they work hard to minimize impact of patients lost.
"It's really a challenge keeping on people's radar," Bill said.
One of the ways they do keep on the radar of the community is by staying involved. They support as many local activities as possible, like student organizations and activities at the local college. They are also active in Sioux City Chamber of Commerce. Bill's wife Sharon Drilling also volunteers at a local food pantry.
At Drilling Pharmacy they also work to provide their customers and patients a unique experience through the services they offer and a level of customer service that can't be matched.
"We try to provide a legendary customer service and we try to know everyone by name," Bill said.
Their motto is "Drilling Pharmacy where you're part of the family" and they do their best to live up to it.