Nearly 40 years ago 12 independent pharmacy owners came together for a dinner meeting in a restaurant in Madison, WI. None of these individuals ever thought that what was started at that dinner table would be as big as what is known today as Independent Pharmacy Cooperative (IPC).
When asked about the start of the company Mike Flint, the founder of IPC said, "I always remind people that these guys had to be believers."
The Cooperative started with 12 Independent Pharmacy owners. This core group had no reason to start the cooperative for their own benefit, only for the benefit of independent pharmacy as a whole.
"They believed in pharmacy so much, and independent pharmacy and independent business that they were all in whether they were going to benefit or not," Flint said.
Creating a Voice for Independents
Since the very beginning IPC has focused on pulling people together for a greater cause, to create a voice in the purchasing process for independent pharmacies. So how did we get from the dinner table to where IPC is now?
Flint had the idea to combine forces with other independent pharmacies in order to create a greater voice in the purchasing process for independent pharmacies. The original board composed of Mike Flint, Robert Schwartz, James Neuhauser, Howard Mize, Robert Gabriel, Bruce Weisman, and Mike Sherry worked long hours at kitchen tables and in their basement offices to build IPC into what it is today.
Once the company was incorporated in 1984, wholesalers pitched to the board, and they ultimately decided to contract with McKesson as the primary
wholesaler for the company. IPC was not always known as IPC; the original board first named the cooperative, the South-Central Independent Pharmacy Cooperative.
"I think we had that name for like a week." Mike said.
After expanding farther across Wisconsin, the Cooperative became the Badger State Independent Pharmacy Cooperative. IPC then added a Gopher State Division, while signing people from Minnesota.
"We just signed Minnesota people up like there was no tomorrow," Mike said.
Once IPC expanded into Illinois, the name finally became what we know the cooperative as today, Independent Pharmacy Cooperative.
IPC Opens Its Own Warehouse
Once IPC expanded into Illinois, the name finally became what we know the cooperative as today, Independent Pharmacy Cooperative.
IPC opened its own warehouse in Madison, WI and quickly grew out of the office. This is when the Cooperative expanded into an actual office and warehouse space on Seybold Road in Madison.
"The warehouse got started mainly because a void for the members was returns," Flint said.
Unsure what to do with returns, members would give them back to the Cooperative, and we needed a place to put them.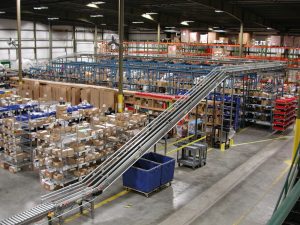 In 1995 IPC only had a few hundred stores and had once-a-month fulfillment out of the warehouse.
Membership kept growing and the Cooperative quickly changed to once-a-day fulfillment and grew out of the warehouse on Seybold Road. This is when plans came about to build in Sun Prairie, WI where IPC is currently located. IPC moved to the new office and warehouse in Sun Prairie in 1998 and grew the warehouse even more over the next few years. Not only with the number of stores and products, but also the square footage.
Mike Dulas, VP of Operations at the time, said, "Two years after that we continued to have growth and we added the two wings onto the office and another 7,500 square feet on each wing and we also added onto the warehouse, another 25,000 square feet."
There were pedigree requirements put in to place to track where products come from and Verified-Accredited Wholesale Distributor (VAWD) accreditation became a required-arm of the National Association of Boards of Pharmacy (NABP).
"To be able to supply you need to be VAWD accredited." Dulas said.
Dulas came from a warehouse that had a high-pressure seven-day a week environment. As soon as he started at IPC, he implemented barcode scanning and electronic technology in the warehouse. Having all of this already in place allowed IPC to be one of the first in compliance with the new VAWD accreditation requirement.
A New Direction
IPC has gone from four employees to full accounting, purchasing, sales, warehouse, marketing, IT, government relations, and pharmacy services teams. Much of this growth occurred under the leadership of former CEO Don Anderson.
Don came to IPC after Steve Niebauer's tenure as CEO. An initial search for Niebauer's replacement was fruitless, leaving the board unsure of what to do, but when CVS bought out Longs Drugs, Don became a free agent.
"Don A was not one of our original guys," Flint said about his hiring.
A month after the buyout of Longs Drugs, Don was ready to get to work and was officially named the CEO in 2009. He served in the role for 14 years, retiring in 2022. IPC stepped into 2023 under new leadership with Marc Essensa at the helm. He took on the role of President and CEO in November of 2022.
Today the company has 6000+ members and has more than exceeded all the original teams' expectations. IPC serves our members as the nation's leading independent-owned buying group. As an organization IPC is constantly striving to give back to Independent Pharmacy owners by returning 100% of our profits and 100% of the rebates earned back to our members.