2023 MVP a Win for Independent Pharmacy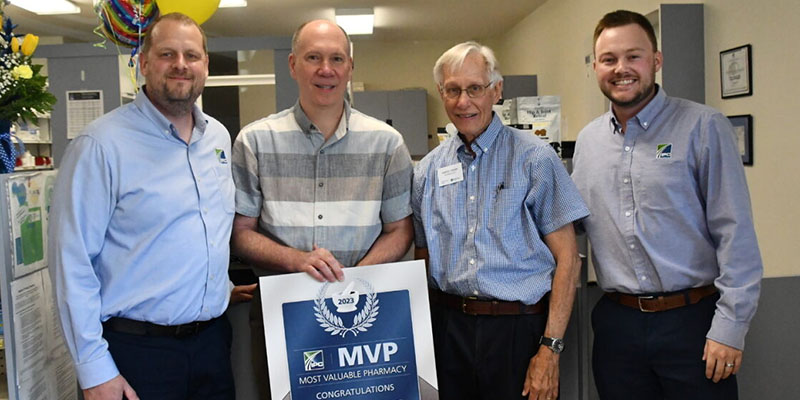 It's been three months since we announced Cain's Drug Store of Vandalia, IL, as the recipient of the Dan Moudry Most Valuable Pharmacy (MVP) for 2023. The award was presented to Scott Borntreger and Darryl Tjaden, Cain's Drug Store Co-Owners, at the IPC Annual Business Meeting during McKesson ideaShare 2023 in Las Vegas, NV.
"It is an honor to be able to recognize Scott Borntreger and Darryl Tjaden for their exemplary leadership and dedication to independent pharmacy and their community," said IPC President and CEO, Marc Essensa. "Cain's Drug Store is a shining example of not just a voice for independent pharmacy, but a community leader."
Something that sets Scott and Darryl apart is their commitment to education. They care just as much about the success of the next generation as they do their own. The pharmacy is heavily involved in the community, regularly giving to and sponsoring local school districts and recreational programs.
Student mentoring is also a major mission of Cain's Drug Store and three of Scott's other retail locations; Harry's Pharmacy, Bond Community Pharmacy, and Byrd-Watson Drug. All four stores serve as Preceptors for the area's two local pharmacy schools, hosting up to eight students per year.
So, if there was ever a time to double the donation to an MVP winner's pharmacy school, this was the year!
Normally, an MVP winner is awarded a $3,000 gift to the pharmacy school of their choosing. However, since we had co-winners this year, both Scott and Darryl were awarded $3,000 each, resulting in $6,000 donated to the St. Louis College of Pharmacy. Yep, they both went to the same pharmacy school!
As an IPC MVP winner, you can expect to be fully recognized for your commitment to community pharmacy. In addition to a pharmacy school donation, IPC MVPs receive:
All-expenses-paid trip to McKesson ideaShare for you and your family, including: registration, flights, hotel.
$5,000 travel voucher
$2,000 staff appreciation award
"The MVP award gives us time to reflect on our past accomplishments and success, but more importantly gives us time to evaluate and look to the future and to consider what kind of legacy we want to leave," said Scott.
Thanks to Scott and Darryl's commitment to the next generation, the future for independent pharmacy in Southern Illinois looks bright.